FlooGoo FMA100 - Universal Clipboard
The world's first Bluetooth dongle allows copy-paste between an iOS device and a Windows or Linux host PC. Get "FlooPaste" App on both your iOS device and your host, then you're ready to have a universal pasteboard between these "uncompatible" OS's, which will greatly increase your efficiency in daily information handling.
The information transferred between your mobile phone and PC is transmitted by Bluetooth connection and encrypted in the air. Nothing is sent to the Internet and all information are exchanged locally, so you do not need to worry about your privacy.
Description:
Copy on iOS or Windows, paste it on the other side. Yes, it gives you a universal clipboard between these "non-compatible" OSs.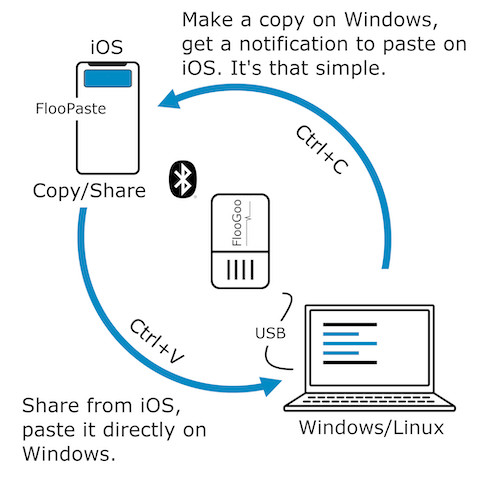 Download the
User Guide
to start using your FlooGoo FMA100.
There're other
Apps
can be used with the adapter.
FlooPaste
On iOS devices, please install FlooPaste from:
Works with: iOS 14.0 or later
On Windows devices, please also install FlooPaste from:
On Linux PCs, the App is provided as an open source Python app available at the following Github repository.
FlooGooClearer:
Apps to reset FMA100 if the bonded mobile device is lost or unavailable.
Mac OS 11.0 or later
Features:
Same Bluetooth Spec. as FMB100
USB A connector, composite device includes HID and virtual COM port
With "FlooPen", use Apple Pencil with Windows.
With "FlooGPS", turn a mobile phone into a GPS receiver.
With "FlooPaste", the dongle allows copying & pasting between iOS and Windows/Linux
With "ScanToPC", turn a mobile phone into a QR & barcode & OCR scanner, the scanned results are inputted to PC via USB HID keyboard protocol
38.6mm x 19.5mm x 6.8mm
Net Weight: 3.8g
Bluetooth QDID: 180451
Contains FCC ID: 2A22WFMB100
CE
RCM
RoHS compliant