FlooGoo FMA120 - Samples Available Now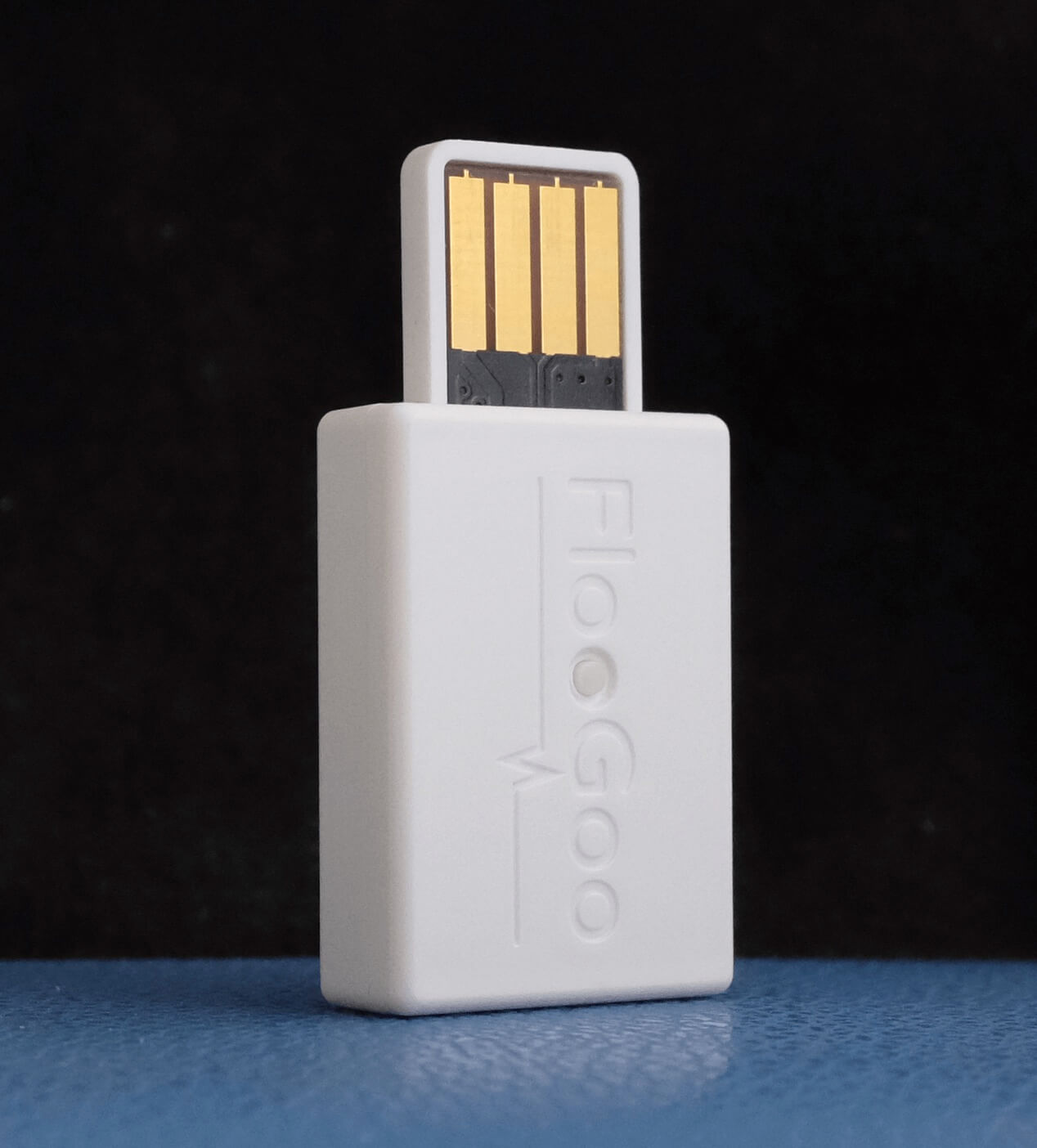 The FMA120 is a dual-mode Bluetooth 5.4 USB audio source dongle. It empowers users to enhance their source devices, including phones, laptops, TVs, and a diverse array of other audio equipment, by adding the cutting-edge Auracast™ broadcast audio functionality. Furthermore, it boasts support for LE Audio Unicast for both music and voice, in addition to compatibility with Bluetooth Classic HFP/A2DP headsets, speakers, and earbuds.
Contact us for samples.
Host Apps: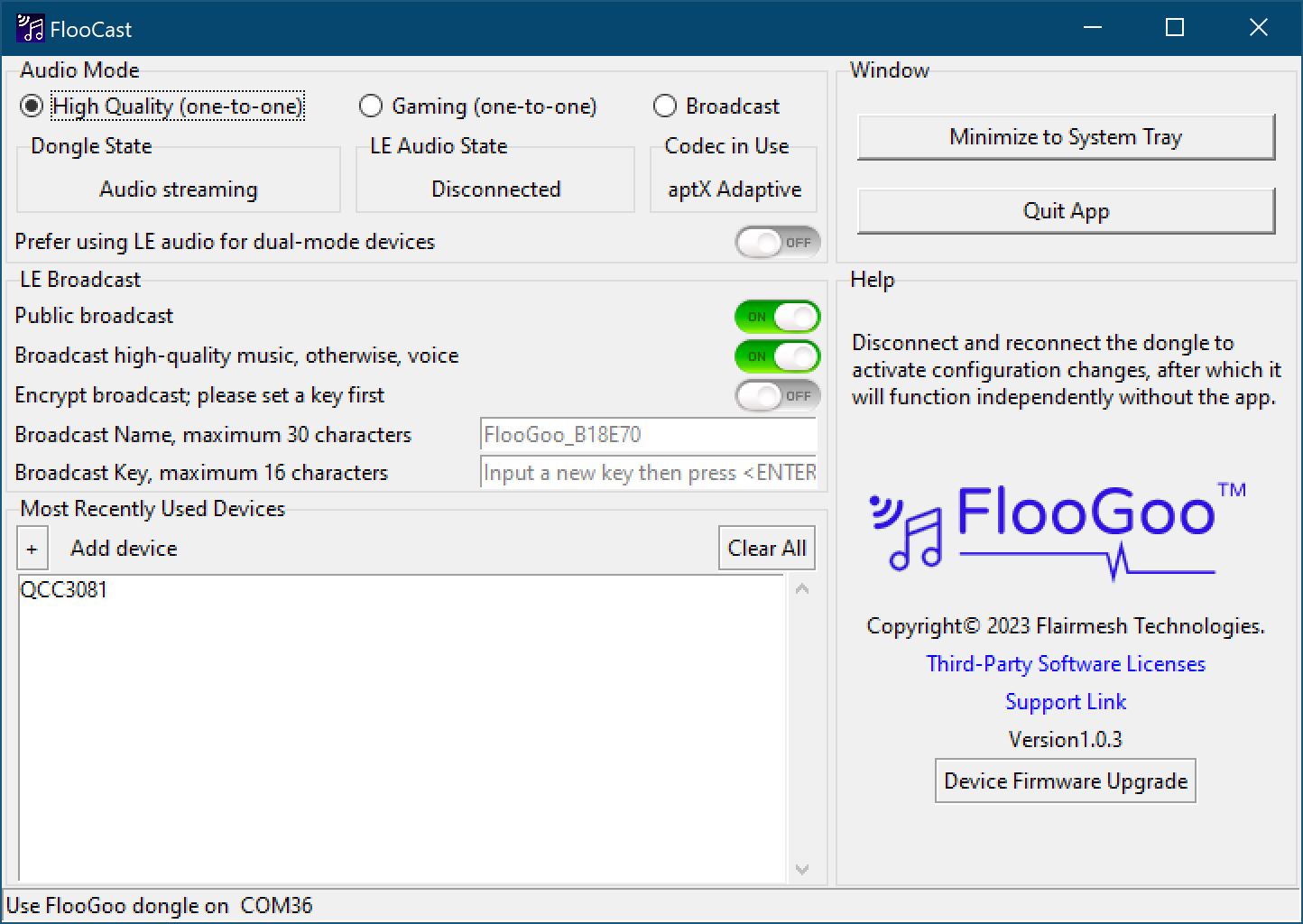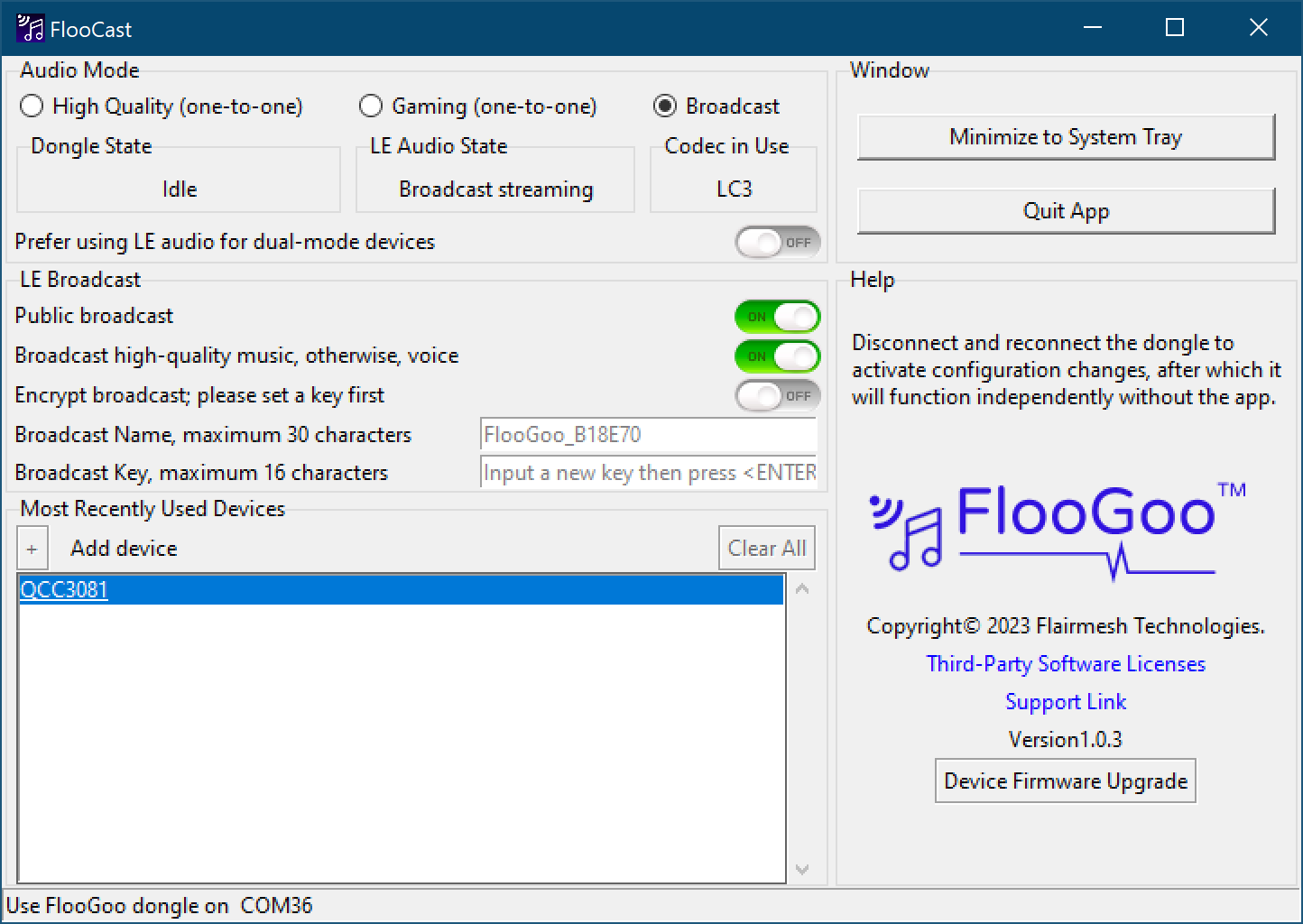 "FlooCast" is designed for configuring Flairmesh Technologies' USB audio source dongle, the FlooGoo FMA120. It empowers users to customize its settings for different operational modes, including high-quality mode for Bluetooth A2DP audio streaming, low-latency gaming mode, and the latest Bluetooth low-energy audio features, such as public audio broadcast. Additionally, it provides the ability to verify the currently employed Bluetooth audio codec during streaming and broadcasting. It also serves as a tool for firmware updates.
For Mac and Linux PCs, the app is accessible as an open-source Python application, which you can find on the following Github repository.
FlooCast on GitHub
Features:
Class 1 Bluetooth v5.4, +15dBm BR/LE TX power, -97dBm BR and -100.5dBm BLE 1M sensitivity
Dual-mode, work with Bluetooth Classic HFP/A2DP headsets/speakers and future LEA hearables
Qualified design, support A2DP, AVRCP, TMAP, PBP(Auracast)
Optimized with Qualcomm® Snapdragon® Sound, robust connectivity and ultra-low latency
Support aptX™, aptX HD, and aptX Adaptive
USB A connector, composite device includes HID and virtual COM port, audio play and voice call control from Bluetooth headsets and earbuds
Firmware upgrade via USB
LE Audio Gaming mode with Voice back Channel
LE Audio Unicast Music with media control (MCP)
LE Audio Unicast Voice with call control (CCP)
LE Broadcast source support Telephony and Media Audio Profile (TMAP) and Public Broadcast Profile (PBP)
Volume control using VCP
LE Audio Gaming mode with Voice back channel for ultra-low latency (25.5ms) with FMB121
Microsoft Teams compatibility
38.6mm x 19.5mm x 6.8mm
Net Weight: 3.8g
CE
RCM
RoHS compliant
Qualcomm, Snapdragon and aptX are trademarks of Qualcomm Incorporated, registered in the United States and other countries. Auracast is a trademark owned by Bluetooth SIG Inc., USA. Other trademarks and trade names are those of their respective owners.