FlooGoo FMA100 - Use Apple Pencil with Windows
By using our unique FlooGoo FMA100 Bluetooth Dongle, the Apple Pencil can be used with all sorts of drawing Apps on Windows now.
Finger touches or any stylus pen can also be used with pressure control.
When working with an optional host app, users can take screenshots of the host, so they can locate their brushes much easier than using a screenless drawing tablet.
Description:
All Apple Pencil sensor data including altitude and azimuth is transferred to Windows. They are encoded in standard USB HID digitizer/pen reports so it doesn't require any driver on Windows 10/11. Plug in the dongle and connect with the App, then start drawing with your favourite Windows App. Since the dongle uses low latency Bluetooth connection, the lag is unnoticeable. Capacitive pen or finger touch can also be used. The corresponding iPad app allows sliding another finger to simulate a pressure input. Palm rejection is enabled for all these input methods. And the app also allows users to choose to use finger touch as mouse input. So enjoy using the Apple Pencil in one hand while the other controls the mouse cursor. Unlike some network-based solutions, when using this App, no inputs go to the Internet, which also means the lowest privacy risk. The App will inform the user to update the firmware of the connected FlooGoo FMA100 dongle if needed. Don't worry, just tap the button and the App will handle the rest. It'll be done in about 2 minutes, during which a few disconnections and reconnections will happen.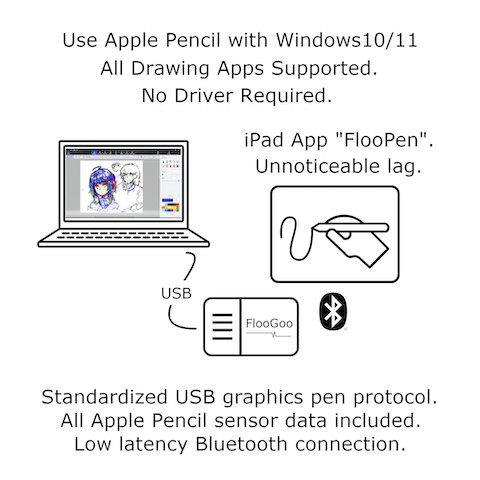 Download the
User Guide
to start using your FlooGoo FMA100.
There're other
Apps
can be used with the adapter.
FlooPen
On iOS (9.0 or later) devices, please install FlooPen from:
On Windows devices, please install FlooPen if screenshot sharing with iPad is needed.
When working with OpenTablet driver, please replace the default Windows Hid driver with the following tool.
FlooGooClearer:
Apps to reset FMA100 if the bonded mobile device is lost or unavailable.
Mac OS 11.0 or later
Features:
Same Bluetooth Spec. as FMB100
USB A connector, composite device includes HID and virtual COM port
With "FlooPen", use Apple Pencil with Windows.
With "FlooGPS", turn a mobile phone into a GPS receiver.
With "FlooPaste", the dongle allows copying & pasting between iOS and Windows/Linux
With "ScanToPC", turn a mobile phone into a QR & barcode & OCR scanner, the scanned results are inputted to PC via USB HID keyboard protocol
38.6mm x 19.5mm x 6.8mm
Net Weight: 3.8g
Bluetooth QDID: 180451
Contains FCC ID: 2A22WFMB100
CE
RCM
RoHS compliant