Scan QR & barcode & text on the phone, get them on a POS machine or PC. It's convenient and accurate. No need to type in the name of a merchandise anymore, just scan. Try the App to see how fast it scans with your phone. You only need the adapter to transmit the results to your POS system or PC.
Description: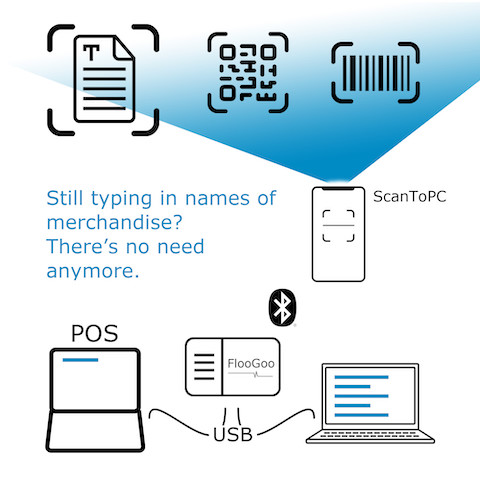 It is the world's first Bluetooth dongle to replace your wire/wireless QR & barcode scanner with a mobile App "ScanToPC", NO DRIVER REQUIRED for your existing system. The App can also scan text in Latin, Chinese, Devanagari, Japanese and Korean. So, for POS users, the item name can be scanned together with the barcode, which can not be done by any traditional barcode scanner. Text only mode also allows it to be be used as an OCR scanner for PCs.
FMA100 brings advanced barcode scanning capabilities of smartphones to all those existing-barcode depended systems by using USB as its host interface and acts as a standard USB keyboard so that all systems that accept a keyboard will work with it.
Download the "ScanToPC" App from the links below for your smartphone, get your FMA100 and plug it into your host system, then pair it with your phone using the App and start scanning. The mobile App has many advantages over a traditional scanner, i.e., it scans multiple barcodes simultaneously, supports almost all code formats you can encounter, gets text description together with barcodes, buffers scanned codes when unconnected and sends them later when it resumes. This can be very useful when managing your inventory where you might be far away from your host but still need to scan barcodes.
Download the
User Guide
to start using your FlooGoo FMA100.
There're other
Apps
can be used with the adapter.
If you cannot buy it directly from our Amazon Stores, please check
here
to find a distributor of our products in your area.
ScanToPC
Install the mobile App from:
Works with:
iOS 10.0 or later, 64-bit devices, iPhone from 5s, all iPad Air, iPad mini from 2nd, Six-generation iPod touch, all iPad pro, iPad 5th or later
Android 5.0 (Lollipop) or later
Apple is a trademark of Apple Inc., registered in the U.S. and other countries and regions. Android is a trademark of Google LLC.